Vengeance Is Mine: The Mountain Meadows Massacre and Its Aftermath
By Richard E. Turley Jr. and Barbara Jones Brown
The long-awaited follow-up to the groundbreaking Massacre at Mountain Meadows
Published in 2008, Massacre at Mountain Meadows was a bombshell of a book, revealing the story of one of the grimmest episodes in Latter-day Saint history, when settlers in southwestern Utah slaughtered more than 100 members of a California-bound wagon train in 1857. In this much-anticipated sequel, Richard E. Turley Jr. and Barbara Jones Brown examine the aftermath of this atrocity.
Vengeance Is Mine documents southern Utah leaders' attempts to cover up their crime by silencing witnesses and spreading lies. Investigations by both governmental and church bodies were stymied by stonewalling and political wrangling. While nine men were eventually indicted, five were captured and only one, John D. Lee, was executed.
The book examines the maneuvering of the defense and prosecution in Lee's two trials, the second ending in Lee's conviction. Turley and Brown explore the fraught relationship between Lee and church president Brigham Young, and assess what role, if any, Young played in the cover-up. And they trace the fates of the other perpetrators, including the harrowing end of Nephi Johnson, who screamed "Blood! Blood! Blood!" in his delirium as he was dying, more than sixty years after the massacre.
Turley and Brown also tell the story of the massacre's few survivors: seventeen children who witnessed the slaughter and eventually returned to Arkansas, where the ill-fated wagon train originated.
Vengeance Is Mine brings the hitherto untold story of this shameful episode in Mormon and Utah history to its dramatic conclusion.
"This haunting, exhaustively-researched account stands as the definitive study of the long afterlife of the Mountain Meadows massacre."
Laurie Maffly-Kipp
Washington University in St. Louis
"Vengeance is Mine is a riveting account of how justice was pursued and evaded during an era of national transformation. With moving prose and a brisk narrative, Richard E. Turley Jr. and Barbara Jones Brown's tale reveals much about both nineteenth century Latter-day Saints as well as the American nation against whom they nearly waged war."
Benjamin E. Park,
author of Kingdom of Nauvoo
"A harsh, painful story of the tragic aftermath of the Mountain Meadows Massacre reconstructed from a decades-long investigation of the sources, Vengeance Is Mine is an unflinching account of investigation, cover up, and suffering. Turley and Brown have made startling discoveries that put the story in a new light without relieving the perpetrators of guilt. A complex, enthralling historical narrative."
Richard Lyman Bushman,
author of Joseph Smith: Rough Stone Rolling
"This impeccably researched and eloquent book tells a story about crime and punishment in a western territory in the years immediately before and after the Civil War. It is a story about the entanglement of local and national politics, about religious zeal and bigotry, and about barriers to achieving justice in a bitterly polarized society. It is a story for today."
Laurel Thatcher Ulrich,
author of A House Full of Females: Plural Marriage and Women's Rights in Early Mormonism, 1835-1870
"In Vengeance Is Mine, Brown and Turley clarify and fill in the narrative spaces in the aftermath of the infamous Mountain Meadows Massacre. Using legal transcripts and other primary documents, they unravel the tale of how American Indians were blamed and then used to deflect attention from the principal orchestrators of unimaginable violence. This story reflects events in Mormon history while contextualizing religious and systemic racial attitudes of the nineteenth-century American West. This is a book not to miss."
P. Jane Hafen (Taos Pueblo),
co-editor of Essays on American Indian and Mormon History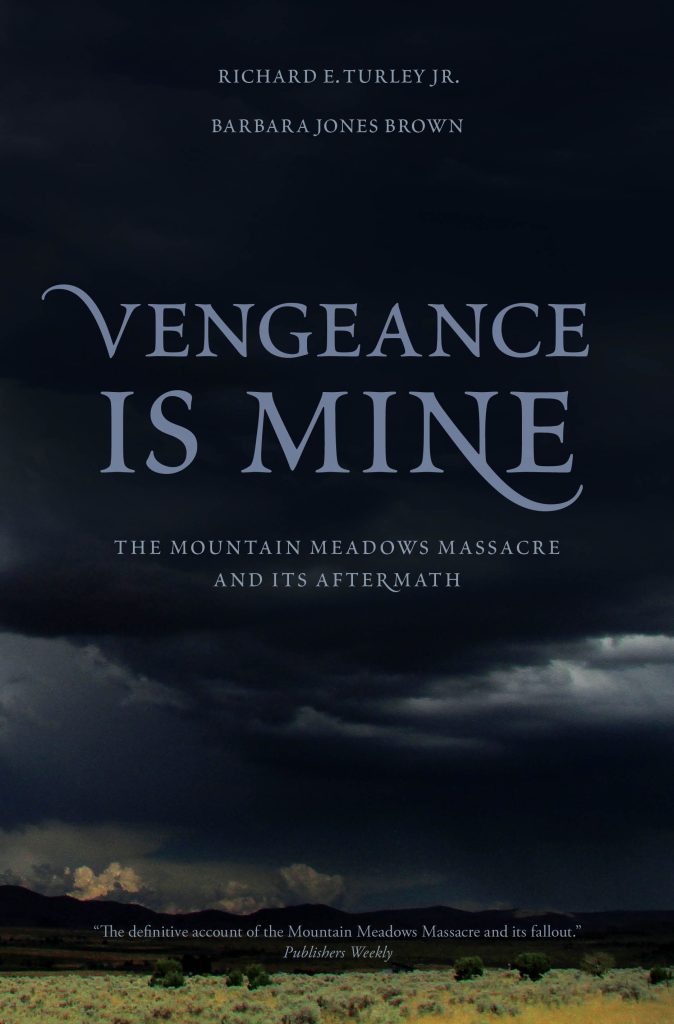 Essential Understanding
"While the massacre continues to shock and distress, we hope that the publication of this volume will be a further step in facilitating understanding, sharing sorrows, and promoting reconciliation. We are honored to present the sequel toMassacre at Mountain Meadows." —Authors
Vengeance Is Mine: The Mountain Meadows Massacre and Its Aftermath is available from the following retailers.