Mountain Meadows Massacre: The Andrew Jenson and David H. Morris Collections
Edited by Richard E. Turley Jr. and Ronald W. Walker
During years of research for their 2008 book Massacre at Mountain Meadows: An American Tragedy, authors Ronald W. Walker, Richard E. Turley Jr., Glen M. Leonard, and their colleagues discovered a great deal of information about the 1857 massacre, leading to a clearer understanding of the tragedy. No one can speak responsibly about the details of this event without consulting these newly discovered documents. Mountain Meadows Massacre presents two of the valuable and revealing collections the authors uncovered.
The first collection was gathered in the 1890s by Andrew Jenson (1850–1937), a full-time employee in the LDS church historian's office. The second collection was compiled a decade later by David H. Morris (1858–1937), an attorney and judge in St. George, Utah. Images of the original documents are accompanied by typed transcriptions, which reproduce original spelling, punctuation, strikethroughs, and inserted words or characters. Introductory text explains how each document collection was initially created, how the LDS Church came to possess them, and where they were archived. Brief biographical sketches introduce the individuals who were interviewed, gave affidavits, or wrote letters that appear in the document collections.
"With this volume, the authors fulfill admirably their commitment to provide the unpublished, unexploited primary source material to support their earlier narrative history, Massacre at Mountain Meadows. In the process, they open partially the door to that fabled cupboard of documentary treasures and conspiracy grist–the LDS First Presidency's vault. What here emerges is a set of participant accounts loaded with the gospel truth leavened by prevarication, mendacity, and finger-pointing. Turley and Walker perform a wonderful service in helping us negotiate the complexities of this homicidal thicket, sometimes at a cost to their own equanimity. Their book is best approached as an adjunct to Massacre at Mountain Meadows rather than as a stand-alone work; it can best be evaluated when read in tandem with another account of post-tragedy truth-seeking by an attorney-historian grappling with obfuscation—Henry C. Clausen's Pearl Harbor: Final Judgment."
William P. MacKinnon,
an independent historian, honorary life member of the Utah State Historical Society, and president-elect of the Mormon History Association, is author of At Sword's Point, Part 1: A Documentary History of the Utah War to 1858.
"These recollections, affidavits, and statements of Mountain Meadows Massacre participants and informed bystanders are valuable additions to the documentation of the 1857 tragedy. The editorial standards employed here are cutting-edge. The editors' acknowledgement of the limitations inherent in some of the documents enhances respect for the integrity of the project. This volume is an essential contribution to an understanding of one of the most horrendous crimes in Mormon and western American history."
Klaus J. Hansen,
professor emeritus, Queen's University, Kingston, Canada, is author of Mormonism and the American Experience.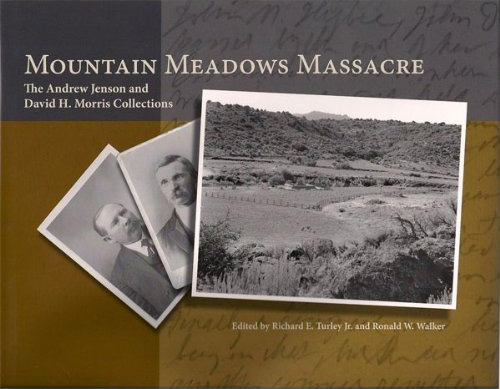 Essential Understanding
"While the massacre continues to shock and distress, we hope that the publication of these documents will be a further step in facilitating understanding, sharing sorrows, and promoting reconciliation. We are honored to present these documents as supplements to Massacre at Mountain Meadows." —Editors
Mountain Meadows Massacre: The Andrew Jenson and David H. Morris Collections is available from the following retailers.